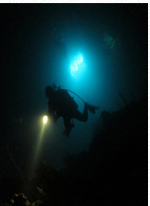 Night Dive Adventure
SUMMARY:
A fun and diverse level
Benefits of Advanced and Adventure Diver
Who can pass Advanced and Adventure Diver?
What is the structure of the Advanced and Adventure Diver ?
What are the educational tools provided with the course?
I have already completed qualifications with another diving organization, how can I get the Advanced and Adventure Diver qualification?
Options for the theory: PADI eLearning
Rates and benefits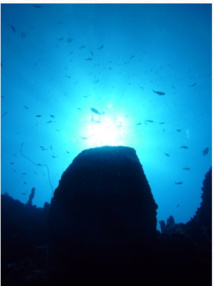 Deep Dive Adventure
WHO CAN PASS THE PADI ADVANCED/ ADVENTURE ?
To register for the Scuba Diver course , you must:
Be over the age of 10 ( Junior Scuba Diver qualification to 15 years)
Know how to swim
Complete and sign :
The declaration of acceptance of risk diving
The declaration of adherence to safety rules PADI
PADI medical statement ( RSTC Medical Form)
The declaration of PADI Scuba Diver
Have a certified PADI OPEN WATER qualification (or equivalent)
If you answer "yes" to one or more questions on the medical statement then you should take extra consideration (a doctor's consent is sufficient)
Additionally, if you are under 18 , take extra consideration of your medical state.
PADI ADVANCED STRUCTURE
At your registration you choose, depending on your course 3 or 5 diving, both "deep" and "navigation" themes are mandatory.The PADI Advanced Open Water Diver and Adventure are divided into 2 parts:
Theoretical knowledge (3 or 5 chapters corresponding to the chosen themes).
3 or 5 themed dives in a Natural Environment.
The theoretical part teaches you the concepts necessary to maintain your safety underwater and the specificities of the theme. We do not handle a drift dive in the same way to a diving reef or wreck!
The dives allow you to apply new underwater techniques to improve your level and approach the underwater world.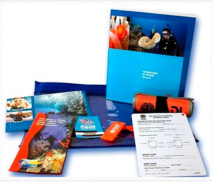 Adventures in Diving learning kit
WHAT TEACHING TOOLS ARE PROVIDED WITH THE COURSE?
Upon your arrival at ATLANTIS we provide you with the Adventures in Diving Kit, containing:
A theoretical Adventures in Diving Manual
DVD
A dive marker
A whistle distress
The theoretical learning is essentially "self-learning". We correct you with the Knowledge Reviews of each theme and complement the knowledge if necessary.
The instructoris always available to go over any questions. This method allows you to learn at your own pace.
I HAVE ALREADY COMPLETED QUALIFICATIONS WITH ANOTHER DIVING ORGANISATION, HOW CAN I GET THE SCUBA DIVER QUALIFICATION?

Simply fill in the same folder that a beginner would fill in.
Then, then the instructor will evaluate your knowledge and practice before issuing you with the certification.
In some cases, additional dives can be made to meet the performance requirements of the course.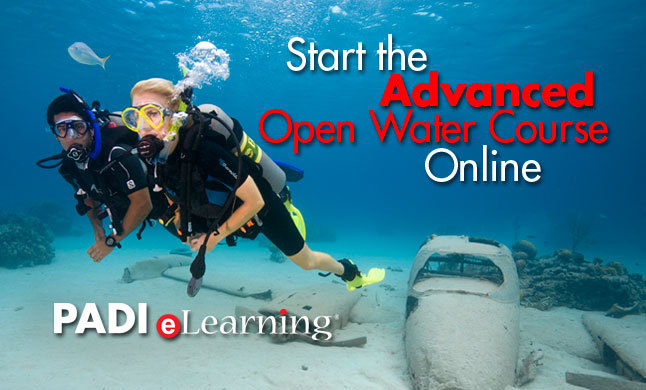 Adventures in diving e-learning option
OPTIONS FOR THE THEORY: PADI E-LEARNING

If you do not want to do theory "work" during your holiday, opt for eLearning!
PADI eLearning ® is a learning tool. Divers who complete the PADI eLearning program meet most or all of the requirements necessary for the theoretical training for the program. If deemed necessary, they must undergo a quick revision test with an instructor.
The eDossiers confirm that the requirements have been met and shall expire one year after the date of the last theoretical section completed.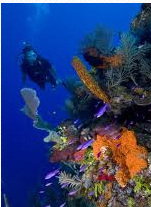 Drift Dive adventure
RATES AND BENEFITS:
ATLANTIS offers the comprehensive training for PADI ADVANCED OPEN WATER for 339 Euros.This includes:
5 technical diving theme
1 (Book + DVD) learning kit forADVANCED OPEN WATER
1 submergible water navigation.
1 diver marker.
Full access to diving equipment.
ATLANTIS offers the PADI ADVENTURE DIVER for 239 Euros. This includes:
3 technical diving theme.
1 kit Adventures in Diving (Book + DVD)
1 submergible water navigation.
1 marker buoy and whistle.
Access to full diving equipment.
ATLANTIS ensures effective and comprehensive training to make you experienced divers and environmentally respectful.