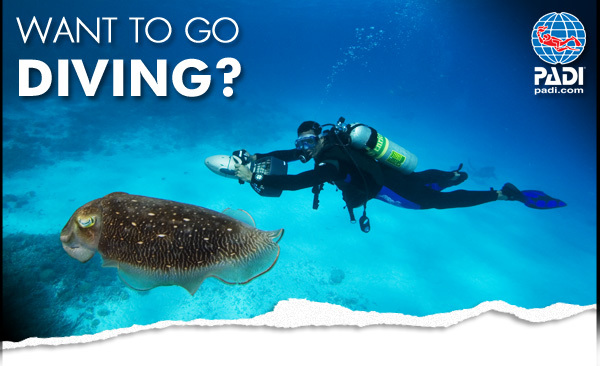 Discover Scuba Diving Guadeloupe
WHY SCUBA-DIVE ?

Discover scuba diving is a way to take part in a unique experience. Imagine yourself in a world where the weight of your body no longer exists, where crowds of fish revolve around you and there is a world of color created by the awesome beauty of coral and sponges. Let's be honest, it's better than a relaxing spa session and safer than the Bank of France. In short, the conditions of the Reserve Cousteau are perfect to make your first dive in Guadeloupe unforgettable. If you would like to view pictures and access more information about the marine life in the Reserve Cousteau, please read our article "Discover the exceptional marine fauna and flora of the Reserve Cousteau! "
WHAT IS THE FIRST DIVE ?
Discover scuba diving is not clearly defined in the Sports Code texts. However, it is fair to think of it as your "first immersion in a bottle". The maximum depth allowed for the first dive by the reference text (Sport Code section scuba diving April 2012) is 6m. One drawback is that there is no minimum diving time recommended or encouraged. Although most centers will offer "about 20 minutes"... you need to be aware what you are being sold. We will return to this later in the article. Similarly, it is clearly stated in the text that the first-time diver must be alone with the monitor under water. Again, beware of what actually happens once you are on the site.

Discover scuba could be defined as follows: a first immersion dive with only one supervisor at a maximum depth of 6m and a variable duration. Furthermore, those who have already experienced discover scuba and are trying again sometime later can be considered beginners or initiated and be with more people with the monitor under water (up to 4).

By convention, if two years have passed since a person made their first and only dive, then they will have to complete a new first dive.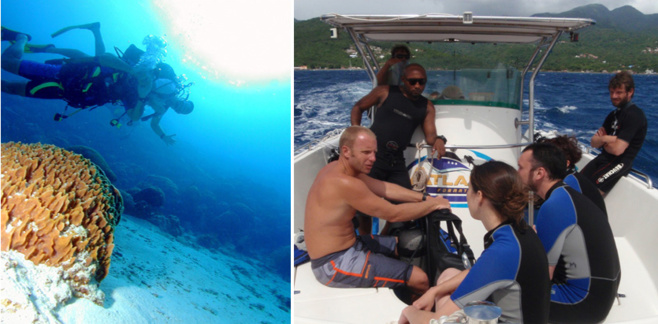 DISCOVER SCUBA DIVING IS FUN !
WHAT DOES IT TAKE TO DISCOVER SCUBA ?

In general, you just need your swimsuit as clubs will lend you the necessary equipment (wetsuit, mask, etc.). Note however, the condition of the suit (bottle, vest and regulator) - a serious club will have clean and well-maintained equipment. The next thing you need is the desire. Yes! You shouldn't force yourself to dive just to please your spouse or boyfriend as the experience may discomfort you. However, if your curiosity is booming and only fear is holding you back, then do not hesitate, even if you cannot swim. A good instructor will put you at ease, will guide your swimming (much like those who freefall attached to a monitor) and adjust the level of difficulty according to your needs. Breathing underwater and swimming alongside turtles and colorful fish is truly a wonderful experience.

There are only a few medical conditions which may prevent you from diving (even for your first time). Here is a small, but not exhaustive, list. If you fall into one of the categories, it is recommended that you provide a medical certificate before arriving at the club.
• Any heart problems
• All lung problems
• Any hearing problems (including unilateral deafness)
• Serious asthma
• Epilepsy
• Tetanus
• Pregnant women
• People flying or planning to climb to altitude on the same day.

Age is not a problem (except for children, please see below). Anyone, even seniors, can enjoy diving.
WHAT WILL HAPPEN IN YOUR FIRST DIVE ?
Whilst there are no set rules, as your first dive will be in the "world of silence", extra precautions must be taken. Theoretically, a briefing on the general organization of the dive, the safety and environment (especially on a National Reserve) will be given at the club or on the boat ride to the site. In principle, the briefing is approximately the same from one club to another. However, some modifications can and should be made according to the person (for example, children or an anxious diver).

Once at the site, the difference in the quality of service between clubs can be felt. You could be waiting for a long time if there are crowds or only a limited number of monitors. The 20 minutes that you have paid for risks becoming 10 minutes if the monitors have to eat. Alternatively, they may take groups of 2, 3 or 4 people at once (which is both dangerous and against the law). So don't just look at the price, as often the cheaper it is, the lower the benefits. A smaller club might have a higher rate but if you think of it in terms of your minutes under water, it is better value! What would you rather? € 40 for 10 minutes or €50 for a guaranteed minimum of 30 minutes.

Atlantis Formation offers a guaranteed minimum of 30 minutes!

You're sitting at the stern, and finally it is your turn to go. Your monitor is chosen according to your competence underwater. You decide whether you want to equip yourself calmly in the water or jump off the boat, like Jacques Cousteau. Your body weight leaves you and now you're facing your smiling monitor. This is a quick summary of what will happen when you go down. The BCD jacket that kept you buoyant above water deflates and the surface slowly drifts away. It is important to descend slowly in the first few meters as this gives you time to "balance your ears" (much-like on a plane, they tend to get clogged with the variation in pressure). You can hear the bubbles out of the regulator and watch them reach the surface. Meanwhile, parrot fish, Caribbean sole, French angels, Bluefin trevally and turtles dance around the corals and sponges without worrying about your presence. After a while you won't have to think about your breathing, just about taking everything in with your eyes. Time will cease to exist as you move forward into this new world that you didn't know before.
Finally, you will resurface with a big smile and memories that you will relive in your dreams for many nights to come.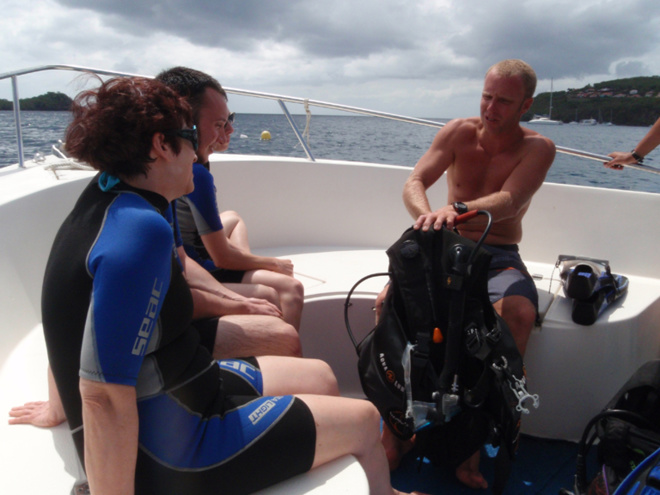 Discover Scuba Briefing
BEST DIVE SITES FOR DISCOVER SCUBA DIVING !
You are spoilt for choice. The Reserve Cousteau, which stretches from Bouillante to the entrance of Pointe Noire, offers a multitude of sites all as beautiful as each other. Most people, however, focus on the "Pigeon Islands" mistakenly thinking that these two islands ultra rich in flora and fauna are just "the Reserve." It is true that these islands are superb and that sites like "Pool" or "Coral Garden" are suitable for a first dive. Nevertheless, "Japanese Garden", "Point Malendure," "Machete" and many other sites still have many advantages for your first dive on the Cousteau Reserve.
WILL THE INSTRUCTOR LET GO ON ME OR NOT ?
Nothing is required for your instructor to decide to let go of you under water. In fact it is often you that makes the decision. If you decide that you want to be held by a instructor underwater from beginning to end ... no worries. If you decide to move to the other side of the monitor ... no worries. As long as you follow the safety instructions set out in the briefing (do not go lower than the instructor, do not swim too fast, do not touch anything ...).

Most people can easily be let go of after a few minutes. After all, diving isn't so hard. If after your first dive you realize that a new passion drives you, then you might want to think about completing your first degree. For more information on this please read: "Training Diving Guadeloupe: get your PADI and French levels"